JMS Home Developments
With over 20 years experience, professional & friendly service, brickwork and general building repairs and Maintenance.
Bricklaying
Steel/Lintel Work
Pointing/render repairs
Garden Walls
Concreting
Flaggging/Block paving repairs
Fencing
Contact Information:
John Mobile: 07494 386865
Office: 01946 841389
Follow us on Facebook
Bus timetables

Bus timetable
Click Here to read the bus timetable.

Rural wheels
Rural Wheels provides door-to-door transport for people who do not have, or are unable to access scheduled transport or have a volunteer driver available. More Information can be found on their website.

Muncaster micro bus
Available from Tuesdays and Thursdays from Bootle to Whitehaven, also weekend trips are available. All bookings are booked on a 'first come, first served' basis.
In order for these buses to be able to provide this service, they require volunteer drivers. Anyone with a car driver's licence can drive the vehicle. If you've any spare time to give please contact them. More Information can be found on their website.
Mobile Post Office
The Mobile Post Office Van is in the Calderbridge Village hall car park every on Mondays at 1:30pm to 2:30pm (except bank holidays).
Sellafield Ltd

We are a wholly owned subsidiary of the Nuclear Decommissioning Authority and the company responsible for the operation and clean-up of the Sellafield site.
Our purpose is to clean up Sellafield.
Our mission is to be a world leader in solving complex nuclear challenges.
Our vision is to safely and securely remediate the Sellafield site for the benefit of the industry, nation and region.
At Sellafield we are:
carrying out the environmental clean-up of the most complex and hazardous nuclear site in the UK
recycling and storing used nuclear fuel
guarding the UK's special nuclear materials
global experts in nuclear waste management
delivering capital projects to support our mission
We are driving for sustainability in our local communities and economies
In 2018/19, we published our social impact strategy and were part of several strategic investments and collaborative interventions designed to help achieve a diversified local economy.
Our social impact interventions aim to deliver large transformational changes. We also facilitate smaller donations and sponsorships to local charities and worthy causes.
For more information on our progress at Sellafield and social impact work, visit our website and follow us on Facebook.
Mill Garage & Garden Machinery
Family owned and run business who offer a wide range of home, garden, horticulture and garage services.
Motor vehicle servicing, parts and repairs.
Petrol & Diesel available on the forecourt.
Calor Gas and Camping Gas cylinders
Bulk Paraffin.
Servicing, repairs and sales of new and used ATVs and Quad Bikes and accessories.
Servicing, repairs and sales of garden machinery including ride-on mowers, garden tractors, lawn mowers, strimmers, hedge cutters, pressure washers, blowers, brush cutters, garden rollers and chain saws.
Servicing, repairs and sales of horticulture equipment including compact tractors, cultivators and rotavators.
Specialist suppliers of grease and lubricants for motor vehicles, agricultural and industrial applications..
Golf Trolleys sales servicing and parts.
Servicing, repairs and sales of horticulture equipment including compact tractors, cultivators and rotavators.
Click Here to visit our website, or Follow us on Facebook.
Stanley Arms Hotel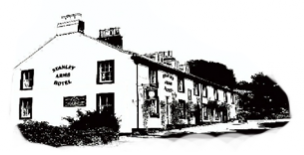 The Stanley Arms is a 14 en-suite room hotel and offers a conference facility, popular restaurant, 2 bars and probably the best river fronted beer garden in Cumbria!
Excellent free WIFI with up to 75mbs download speed and WIFI in all rooms.
Conference Facility
Restaurant and bar food available, as well as an extensive range of takeaway food from fish & chips to Pizzas.
14 en-suite room (Some newly refurbished)
All rooms have TV/DVD players and tea/coffee making facilities
Large car park to the side of the hotel
Large beer garden abounding the River Calder
Excellent walks, beaches and scenery minutes from the hotel
Many local attractions including Muncaster Castle, Calder Abbey and Ravenglass & Eskdale Narrow Gauge Railway (Ratty)
Click Here to visit our website.
Jacksons Timber

Jacksons are a leading independent timber merchant in Cumbria with branches at Whitehaven, Workington, Calderbridge and Barrow, including a dedicated Roof Truss and JJI Joist engineering plant.
Our good reputation is something we are very proud of and is the result of providing people with quality products and service over a long period of time.

We have a wide product range including:
Timber
Power Tools
Hardware
PPE
Safety Signs
Paint
Decorating
Click Here to visit our website.
Calder Angling Association


Membership Information,
All Membership Groups are now open for the 2019 Season.
Juniors £5
Adult Local (In Parish) £40
Adult Visitor £65
Plus £5 joining fee

Day tickets available £10

We hold the majority of rights from the Sellafield Site boundary right up onto the western fells at Kinniside Common beyond Matty Benns bridge.

Salmon and Sea trout when the river is in spate or at raised levels.
Also fantastic wild Brown Trout sport at all times, especially at low water early in the morning or a late summer evening.

The Calder is normally crystal clear, so challenges your technique and stealth. In spate the river can be fearsome, ideal for the Salmon and Sea Trout runs. It flows from open moorland, through the narrow tree lined Calder valley, past the historic Abbey then onto open farmland behind Sellapark. Each new member can have a map of the locally named major pools and as Secretary I'm available to take you on a tour of the waters.
Along the banks you may be lucky enough to see Red Squirrels, Deer, Buzzards, Badgers, Heron's and even a pair of Otters, so it's not just about fish.
My motto " If was just about the fish…..they'd call it catching!"

Follow us on Facebook or see details below;

David Stubbings Secretary CAA
calderanglingassociation@gmail.com, 01946 841641 or 07710 614434
Impact Housing Calderbridge
Impact operates primarily in Cumbria, including Calderbridge, but also owns some stock in North Lancashire, having a total of 2,800 properties. It mainly provides general needs homes (over 70% of stock) and the remainder is in supported housing, housing for older people and shared ownership.
Read our website for more details, or Follow us on Facebook.

Impact housing offer a 'Scheme walkabout' where you'll have the opportunity to meet the neighborhood office if you've any issues to raise such as anti social behavior Click Here to check the dates of the next walkabout.
Pelham House Allotment Society


The beautiful walled gardens at Pelham House are available to local residents and surrounding neighborhoods. Contact Ray Hodge on 01946 841516 to check availability or for more information.
Kirkgate Arts
We run Arts Out West, bringing shows to village halls and other community venues across West Cumbria.
Follow Us on Facebook or Click Here to find out more from our website.